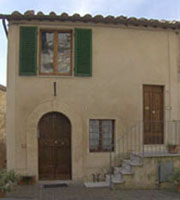 "Casa Vacanze Montepulciano" consists of three apartments "Bacco, Tabacco e Venere" in the historical centre of Montepulciano, at 200 m. from the central square "Piazza Grande" with its wonderful Cathedral by Ippolito Scalza, where inside You can find the triptych of the Assumption by Antonio da San Gallo il Vecchio . All the square is surrounded by Renaissance Palaces such as the Town Hall, that looks like "Palazzo Vecchio" in Florenz.
A stone's throw from the apartments, there is one of the most beautiful Renaissance church "Tempio di San Biagio" by Antonio da San Gallo il Vecchio.
From our windows You can see an amazing panorama, from "Val di Chiana" till the multicoloured "Val d'Orcia", with the typical medieval suburb "Monticchiello" and its "Teatro Povero", With "Pienza" old papal residence, with "Bagno Vignoni"with his Thermal Baths, with "Rocca d'Orcia" and his medieval Fortress, with "Montalcino" and his Brunello.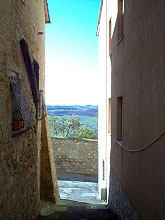 Today Montepulciano presents itself to visitors still with the same characteristics it had when it was a town in the Middle Ages. Many houses made of tuff and bricks with red roofs cling to a hill among green olive-trees and vineyards of the famous "Vino Nobile di Montepulciano". Montepulciano has never forgotten culture and traditions,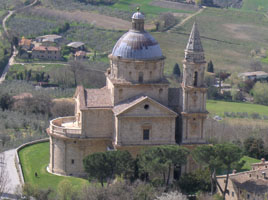 that's why in summer there are many big events such as: "Il Cantiere Internazionale d'Arte", "Bruscello" and "Bravio delle Botti".
Montepulciano is 9 km far from the Thermal Centre of "Chianciano Terme", 4 km far from the Thermal establishment of "Sant'Albino"and the swimming pool "Fonte di Bellezza", 60 km far from Siena, Arezzo and Perugia.
The three apartments have all comforts, TV, kitchen, heating, parking nearby the house.
"Casa Vacanze Montepulciano" represents the best starting point for a relaxing, natural, cultural and gastronomic holiday in the green heart of Tuscany.